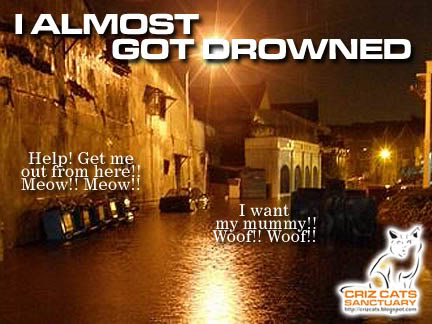 It was definitely a very wet weekend and a chaotic one indeed. First it rained nonstop for more than 13 hours with 4 hours of heavy downpour. My garden was flooded with more than a foot of water whereas my surrounding neighborhood was with above knee deep water. I got panic as it was the worst flood ever happened in years. Water was rising heartlessly into my porch area drenching my sofa and all my furniture out there. I was keeping my finger that it won't come into my house at all. If it were to rise another six inches, all my indoor furniture would have been ruined. Luckily, I got all the kitties, including Jolyn upstairs safe and sound. Unfortunately, I could not get Papa Jonathan, Mimi and the rest of the kittens and puppies inside. I was worried and stressed out that they might not be able to fend for themselves under the wicked rainfall.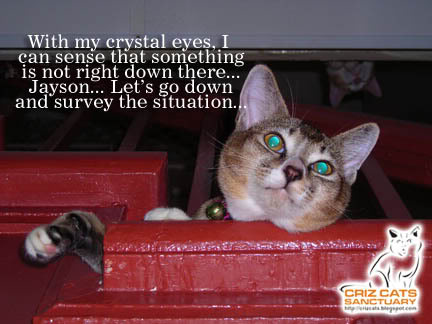 That was not the worst scenario. The worst was that I alone at home down with diarrhea and without access to the main road to seek medical attention. Both my legs were weak from the frequent visits to "you-know-where". I was shivering from head to toes even though I was wearing socks to keep my feet warm. I was totally helpless. I wanted to dive out to rescue whoever was out there sending out their SOS signals but my body just refused to let me go. I was in tears. I was praying hard that those helpless animals out there would be safe from any harm. Oh God! Why must I be sick when I could at least storm out there to see what I could do? I guessed God might have heard my cries to tone down the rain to drizzles a few hours later.
I was relieved but I had lost my energy even to climb up to my bedroom upstairs. I managed to grab a comforter and some cushions nearby to have some rest. Within seconds, I was totally knocked out on my floor. Somehow, I was so at peace during my sleep. I did not feel cold at all. Neither were my feet feeling the chill. It felt like I was lazing under the tropical sun in Hawaii… LOL! That was my dream, ok? I did not realize that I had dozed off for five straight hours.
By the time I woke up, it was a wonderful sight surrounding me. How I wished I had someone around to shoot this sight! My feet did not feel cold because Jeremy was pushing his furry body against my feet. Janice was at my chest. Jayson was at my thigh. Jimmy and Joey were sleeping squashed in between my tummy. Justin was sharing my "pillows aka cushions". Mama Jessica was at my back. Surprisingly Jolyn too was cuddling herself cutely at my butt. Opps… luckily she was not hyperactive that time to play with the wrong things. 😛 I guessed the kitties sensed my need at that time as I sensed theirs all the time. I was touched with tears. Who said there wasn't any close bound between human and animals? That's why I love every single one of them very much! If you have not noticed, that's also the reason I took many hours to create that new animated header up there to show my love for them 🙂
But… Bad Luck comes in THREE… three happenings each day for three days…
Saturday: Mama Jessica, Joey and myself down with diarrhea
Yesterday: Due to the wetness from the flood, our electricity was unstable for computer usage. My computer rebooted 13 times. Argh!! The bad weather continued and my appointment with the roof repairer was put off again for the third time. Is this another coincidence? Results – my kitchen was again flooded and I had a hell time cleaning up as I could not stand the cold water.
Today: I fed Joey her medication but she clawed me on my arms and body. She was fine each time but why today? Due to the unstable current, the technical people were repairing the main power supply to my area. I was without electricity and internet until 5 hours ago… 3 hours ago out of no reason, my face turned pale and I was short of breath. I felt nausea and with a twisting pain all over my spine. The feeling was like I almost died! Luckily I had a friend nearby to accompany me for awhile. I think I better rest now and don't exert myself further. See you all around until I feel better.
While I'm gone, take a look at how a beautiful kitty was saved from the flood in my hometown last year. I hope to see more of this caring people around the whole world. There are many dialects and languages used here. You can just ignore that. What matter most is that a life was saved during that heavy rain! Do enjoy the video.
Khairul And Daniel Rescue Drowning Kitty