After resting for a few days, I had decided to go out for some stroll along the neighborhood to get some food. At least I can get some exercise as well as to avoid getting more bed sores. There was something else which made me wanting to go out to celebrate as I saw Papa Jonathan, Mimi, the few strays around and the puppies happily playing outside my neighborhood. The sight made me cried in tears. I was relieved that all of them were safe from the flood few days back.
As I sat down in a little coffee house at the corner, I saw an orange tabby begging for food from one table to another. I called and she came. She was so adorable. At the same time, I could see her lips moving as if she had yet to take her dinner. It hurts my heart to see a hungry cat.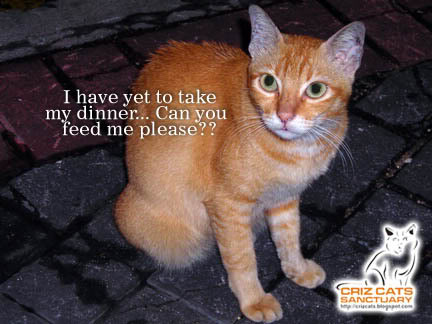 Seeing such a sight, I stood up from where I was sitting and went into the coffee house to see if I could get some fish or chicken to feed her. When I came back, she was still quietly sitting down there waiting for me. Somehow, she was deep in thought. I wondered if she was thinking that it would be another hungry day for her.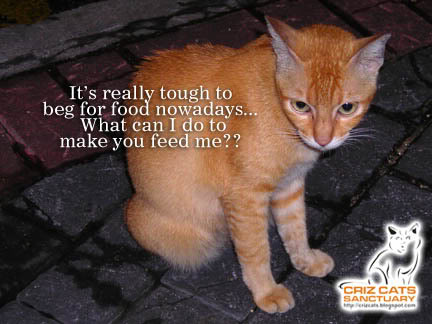 Before my order came, she was still giving that sad look. Suddenly, she did something that I would never expect a stray cat would do. I was quick enough to capture what she did to make sure that she will get some food from me. Here a little movie I have made about her. Do enjoy viewing.
As a result, she got what she wanted. I gave her a big juicy chicken drumstick! All the diners were looking at me with a kind of weird stare. I ignored them as a hungry kitty was what was on my mind then. She ought to be fed until her heart's content…