The J Family members would like to welcome everyone to the party. Make sure that you all had a great time and do enjoy all the food we had prepared for you. Without waiting any longer, let us jump onto our seat and get ourselves comfortable. The party will begin anytime. Please be patience as the food would gradually be served. For those who did not manage to sign in the attendance, please do so after the dinner. Now let us get the party going. ***Drums roll*** Announcing the arrival of our lovable Daddy! ***soft background music playing*** Ladies and Gentlemen! The meals are served now… DISH 1: FOUR SEASONS
Since everyone is from all parts of the world and had experienced the changes of seasons, it is appropriate to serve this FOUR SEASONS dish. Right at the top clockwise are Catnips (compliment by Uncle Karl), Japanese Stir-fried Baby Octopus with sesame seeds, Tuna Mix with Avocado topped with grilled prawns and Clay Baked Salty Chicken.
DISH 2: CREPE DELIGHT
We learned this dish when a friend of ours dropped by from France. Justin and Jayson made the crepe skins and Mama Jess stir fried some marinated chicken and beef cubes in thick creamy mushroom crème and sprinkled with some chopped oregano leaves. Since Papa Jonathan had netted a lot of fresh prawns, we decided to garnish the halved crepe with a grilled prawn each. Don't you think Janice is so creative with the decoration?
I hope all of you had a great time with the dishes served so far. They will be free flow of Japanese Green Tea to wash out all the oily food and some great beverages such as Niptington, wine and Lizquila compliment by Uncle Karl as well.
DISH 3: INDIAN TANDOORI CHICKEN
Mama Jess thought of letting the guests try out her Baked Tandoori Chicken. This authentic Indian cuisine is much loved by the locals here. Whole chicken or choice pieces are marinated in Tandoori sauce plus a bit of yogurt and baked until cooked. It is normally served with Nan Bread but since there are so many dishes served, we did not make any. I am sorry about that burned part of the wings as Jayson forgot to wrap it with aluminum foils before putting the dish into the oven. 😛
Ooo… we have a special guest appearance here. Let us welcome the Cole Cats starring Mickey as Cat King Cole and Sassy as Catalie Cole. Please click on the music bar to listen to the oldies 😛
DISH 4: MALAYSIAN GRILLED SPICY STINGRAY
Mama Jess made this the Malaysian way. She marinated the stingray (compliment by Uncle Karl) with turmeric powder, chili paste and some blended onions. She slowly grilled the fish slices wrapped in banana leaves until it become golden brown. Try garnishing the grilled fish with some Malaysian shrimp paste chili with chopped big onions and lime juice (Sambal Belacan). Warning… this combination can be fiery hot!
DISH 5: INDONESIAN GADO GADO
Mama Jess made this dish for those guests who love vegetables a lot. It is an Indonesian salad where the sauce is made from pounded peanuts, some spicy herbs and coconut milk. It is not hot and is suitable even for kids. We had a hard time cutting up all those long beans, carrots, potatoes, tomatoes, lettuce, cucumber, boiled some eggs and fried some tofu. Actually, we did fry some prawn crackers to go with it but the whole J Family members finished all while watching "Cats and Dogs II" last few nights. 😛
DISH 6: KOREAN WINE SAMGYAPSAL
I'm sure a lot of you would love BBQ but we are having it the Korean way where we will BBQ our food right at our table. Try Mama Jess's secret wine marinated ribs, chicken drumsticks and mussels.
DISH 7: EMPEROR'S SEAFOOD NOODLE
This noodle dish was meant solely for the Emperor but we managed to smuggle one of the palace's Chinese Kitty chefs to cook for us today. We love seafood a lot and thus he put lots of juicy squids, giant prawns, clams and abalone in it. We love the creamy taste a lot.
DISH 8: DESSERTS OF THE WORLD
As for dessert, we have three different types imported all the way from China, Thailand and Japan. They are the Chinese Prosperity Fish Jelly, Thai Seahorse Jelly Bar and Japanese Taiyaki with hot steaming red bean paste.
DISH 9: BIRTHDAY CAKE:
What is a birthday without a cake? Janice made this cake especially for Daddy. The cake comes in a fish bowl with a wooden fish stand. Inside the bowl, the base is filled with assorted flavors of cube cakes, fish shaped candies and filled with yummy Vietnamese Dragon Fruit Jelly. Of course, we lighted ONE CANDLE only. Daddy wants to FEEL YOUNG everyday… hehe
It was almost sunset when the birthday cake was served. We had the cake served outdoor by the cliff overseeing the Straits of Malacca. Everyone was excited to take a group shot. As usual Uncle Karl was overdosed with Lizquila, and his fiancé, Ruis need to accompany him all the time. Wait! Where is Daddy? Did someone accidentally knocked him down the cliff? Help!! Hmm… we have the CCSI III – The Missing Mummy Caper coming up this 10th &11th May, are we having The Missing Daddy Caper next? Hahaha…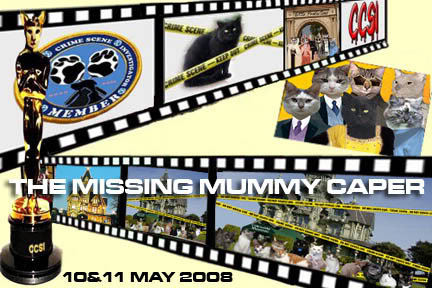 Here is the group shot of the guests…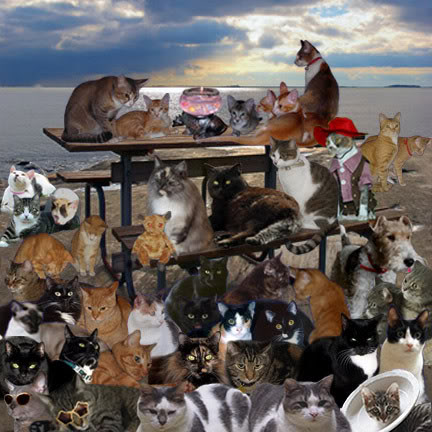 ON THE MAIN TABLE
The J Family – Papa Jonathan, Jeremy, Janice, Justin, Jayson, Mama Jessica
ON THE BENCH
Karen Jo, Momo, Sassy, Charlotte, Daisy
1ST ROW (LEFT TO RIGHT)
Ruis, Karl, Opus &Roscoe, Lego
2ND ROW (LEFT TO RIGHT)
Indigo, Sox, Cubby, Amber, Kosmo & Mouse, Adan
3RD ROW (LEFT TO RIGHT)
Cheysuli, China Cat, Willow, Jawsy, Felix & Garfield, Asta, Kashim & Othello
4TH ROW (LEFT TO RIGHT)
Tigger & Samantha, Tillie, Mickey & Georgia
5TH ROW (LEFT TO RIGHT)
Au & Target
6TH ROW (LEFT TO RIGHT ALONG THE CLIFF)
Charybdis, Socks & Scylla, Chica & Pumuckl ALL GUESTS' SIGNATURES ARE REQUESTED HERE EVEN IF YOU ARE NOT A CAT. THANK YOU! 😛