The link above is where cat lovers all over the world gathered and share their updates on their pets on every Tuesday. Feel free to drop in if you are a cat lover.
At two months and 4 days old, the twins, Jimmy and Joey had decided to open up their own business. I was telling them that they were just too young to be involved in any businesses but they insisted on trying their services for the first few days before deciding whether to invest in it. They will need a "guinea pig" to try out their services and who could that be? Well, there's only one "pig" which is the biggest and fattest in the J Family… Jeremy!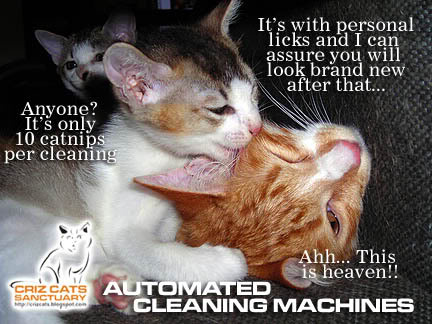 They have decided to register their business as "Kitomatic Cleaning Machines" once everyone in the household approved of their quality services. I have seen them working hard on achieving that dream of theirs. They are very professional indeed. Every dirty spots on the "client" would be cleaned without further questions. I'm not sure whether I would want to let them out into the business world. It's a jungle out there as only the best would survive and be successful for a long term. What do you think? Should I let them go? Here's a video on their determination and commitment to be the best!