I do not have any issues with going out for a date provided that the mancat who has asked me on my profile will give me a year of catnip supplies. 😛 Anyway, Daddy said that I should not be dating anyone unknown to him as I am only 3 months plus although he is from Katz Tales. LOL. Anyway, he wanted to know 3 new things about myself. Should I tell him Daddy? Haha… Daddy said it is fine. Hooray! I am going out for a date soon 😛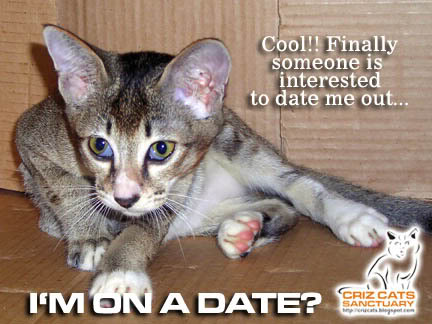 The first thing I love is to be together with my brothers, Jayson, Justin and Jeremy. See! I am the only ROSE amongst all the THORNS. I do enjoy their companies, their hugs, their cuddles to keep me warm at all times. Isn't it great to be loved by your brothers? What a great family I am born in. To Papa and Mama… F.A.M.I.L.Y.! Father And Mother… I Love You!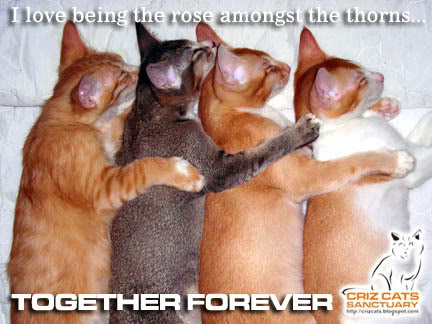 Next, I love Minnie Mouse a lot. She kept me happy when I am sad. She gave me all the fun when I am bored. She is such a good playmate as well as bed buddy. Pssss… please do not tell Mama that I stole her birthday present… hehehe…
If beans can camwhore all the time, why can't we kitties catwhore all the time? I always love to pose in front of the camera. How do you like my pose? Do you think I can be eligible for the Superkitty of the World 2008? Hmmm… I still need to have more practice on my catwalk still. I wonder if Mama would teach me some of her moves. 😛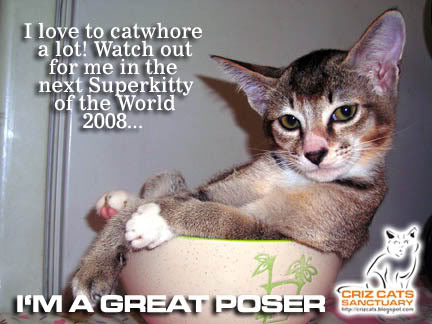 Now let me see which 3 cute, handsome and manly cats will accompany me to the Superkitty of the World 2008 audition. Lego, Moe and Cecil, please tell me 3 new things about yourself to impress me. Have a great day guys… lots of purrs and kisses from Janice!