I always have the phobia when December is nearing. It's always the worst month in my life having the cruel blow of losing so many cats
adobe fonts schriften herunterladen
. Firstly, it was Jordan, who was having a long bout of epilepsy cases, missing and was never found since earlier this month. Now it's Jasper's turn to be in the hands of God~ We were still enjoying our roasted chicken on Christmas Eve and today he's gone… just like that
dxf insisted
. No signs of illness… He just fell weak and tired this morning and by 3.30pm… He left us in tears and sorrow… It's another sad day in December 2014 for everyone here including the J Family Kitties.
adobe flash player download kostenlos deutsch
. MAY HIS SOUL REST IN PEACE.. We'll meet again at the Rainbow Bridge… Goodbye Jasper L… my beloved "Pikachu"~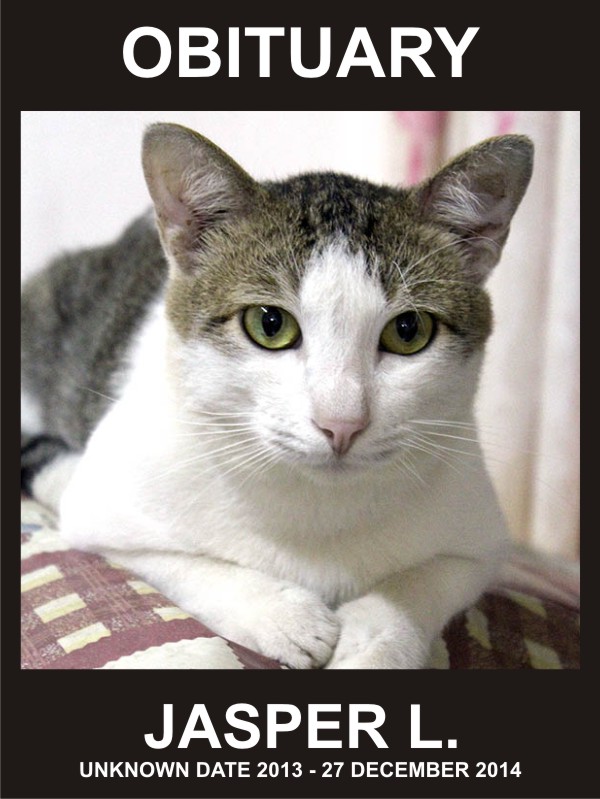 A Tribute To My Best Friend & Family – Jasper L cliparts gratis herunterladen.
I remember how you sunbathe on that specific spot…
That's where you always lie down and gave me that handsome little smile…
Now it's all so quiet with you no more…
No more echo from your voice along the road…
No more of you running towards me each time I came back home…
It's now filled with emptiness out there and inside my heart…
Though you were with me for not too long…
I'll always treasure those great memories…
Goodbye my friend… my great companion…
Til we meet above again…