To know more on what had happened to Panther and his previous progresses, you can read more in my earlier post "HIS LIFE COULD NOT BE ANY BETTER", "PANTHER – THE CAT WITH THE FIGHTING SPIRIT" and "PURRS FROM PANTHER". LATEST UPDATE: 20/5/08 7.00PM Today has been a hectic day for me as I had many chores to do before my trip down to Kuala Lumpur for a seminar end of this week. Nevertheless, I still managed to squeeze out some time to be with Panther at 4.30pm. When I reached the clinic, the vet was all smiles with good news. Panther can now twist his body by his own. His body temperature has become stable and he was all back to his cheeky moods.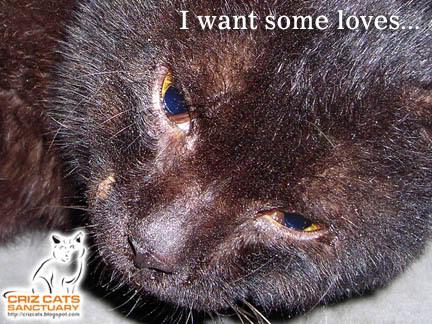 As for food and water, he has been taking them right out from the saucer now and he ate a lot since this morning. The vet told me that he had urinated quite a few times but he is still waiting for him to do his "bigger" ones. Today, I sensed that Panther is feeling more energetic and happy. But deep inside, I still felt sadness seeing all his wounds and scars on his face. They are signs of a bitter life and suffering of a cat that did nothing wrong when he was first born into the world. I do not know how to describe my feelings but it surely hurts inside.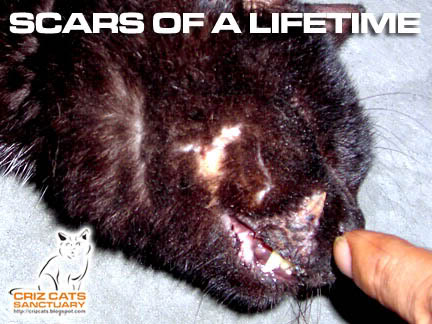 If you can look closer, you will also noticed that Panther's right lower back tooth has to be taken away. It was chipped so badly that it showed the nerves inside and was causing him more pain. After all, based on the vet's experience, it no longer has its uses. He can still use the other side to munch. The problem is that we do not have pet dental facilities over here. I am not complaining and as long as he can pull through this second life threatening trauma, I am happy. I purposely put my finger forward to let him give me his regular soft love bite to show you that he can still manage without the tooth.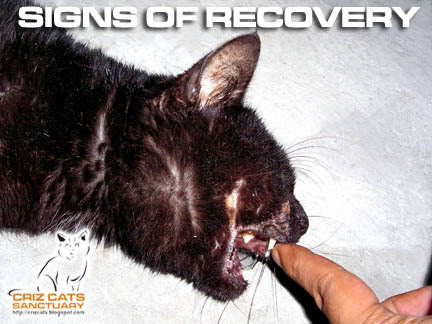 I will check back with the vet tomorrow to leave you all more updates. Have a nice week ahead and thanks for everything! 🙂