To know more on what had happened to Panther and how he is progressing, you can read more in my earlier post "HIS LIFE COULD NOT BE ANY BETTER", "PANTHER – THE CAT WITH THE FIGHTING SPIRIT", "PURRS FROM PANTHER" and "SCARS OF A LIFETIME" LATEST UPDATE: 21/5/08 10.40PM Today was another busy day for me. I managed only to catch up with Panther at 4.30pm. He ate a lot today compared to yesterday but we have a problem here. So much food has gone into his tummy but nothing has come out yet. In fact, his tummy has bloated up a lot. The vet has tried many ways to make him poo but all we ever get was Panther polluting the room with his poisonous gas… Haha! The vet did check through his **ahem**. There was no injury at all. We were scratching our heads what else could be wrong with him. Haiz… it looked like he needed another X-ray tomorrow if things do not go as expected. Let's hope he will do his "big" business tonight.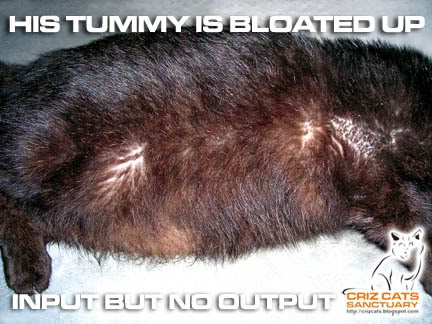 Well, I might not be able to give updates on Panther tomorrow as I would be on my way down to Kuala Lumpur. Anyway, I have giving the vet the authority to do whatever is necessary for Panther if anything else goes wrong. **touch wood**. Every time when I want to bid farewell to Panther, I will see the scars on his body. Gosh… so many all over his body! But this time, I saw a pattern. It could be some words or some numbers. Maybe you all could identify what it is.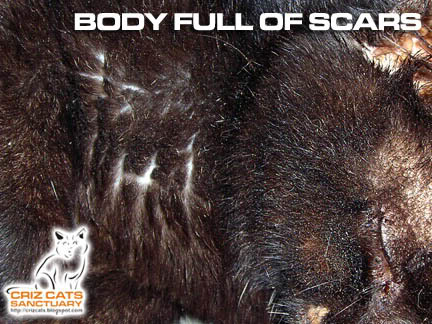 In case I could not make it to provide updates, I have the J Family members to entertain you until I am back next week. Please give them some supports. If I have the spare time and internet access in KL, I will surely keep you all posted.