Adapted from Malay Mail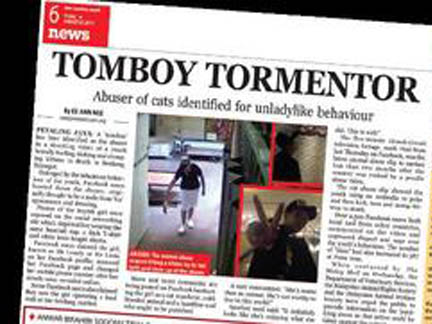 PETALING JAYA: The "Serdang cat kiIler" now faces another report against her, this time from the Selangor Department of Veterinary Services (DVS).
Yesterday morning, Malaysian Dogs Deserve Better (MDDB) president Christine Lai lodged a police report in Petaling Jaya against 21-year-old Chow Xiao Wei who apologised to torturing and killing three kittens with an umbrella and stomping them to death.
At 2.30pm yesterday, Christine filed another report with DVS against Chow. A copy of the report would be handed over to the Shah Alam Deputy Public Prosecutor, to get an approval to start an investigation.
Meanwhile, Selangor DVS director Datuk Haji Mohd Radzuan Malik denied claims by several non-governmental organisations (NGOs) that the department was reluctant to act on various animal abuse complaints against them.
"We carried out many investigations of animal abuse over the years. In most cases there were no harsh cruelty to animals as described under the law for us to take appropriate action," he told The Malay Mail.
"I understand most NGOs want immediate action against animal abusers but what's perceived as cruel in the eyes of the public, is not necessary so in the eyes of the law. Unless there is an amendment to the law pertaining to the rights of animals, only then can prompt action be taken against animal abusers."
Radzuan said in animal abuse cases, it was vital for witnesses to come forward to assist in investigations.
"There was one major animal abuse case dropped because witnesses refused to testify. This involved stray dogs at a train station. People were scared of the stray dogs, leading to some people taking matters into their own hands by being cruel to the strays."
Meanwhile, since Chow apologised, she should be made to do community service, says Malaysian Small Animal Veterinary Association (Sapam) president Clement Anthony.
"She should do community service like sweeping drains, instead of doing volunteer work at the Society for the Prevention of Cruelty to Animals (SPCA)," Anthony said.
"Animal abusers should not be let off with a minimal fine. Only a jail term will make them sorry."
Anthony said those who watched the recent closedcircuit television (CCTV) footage of the Serdang cat killer would find it hard to forgive her despite her apology and promise never to abuse animals again.
"While torturing the cats, she kept looking at the CCTV as though she was proud of what she was doing."
Anthony urged the authorities to amend the Animal Act of 1953 to have the fine increased to RM50,000 so as to serve as a deterrent.
"The Department of Veterinary Services (DVS) should also lead in taking legal action against animal abusers,"
he said.
"Sapam has filed several reports on animal abuse to the DVS but feedback from them has been discouraging."
Anthony also commended Facebook members for exposing the incident soon after the CCTV footage was uploaded.
"The public can play a major role by not condoning any animal abuse and also reporting such incidents without delay," he said.
S. Vijayaletchemi, an animal lover who has three dogs, believes the Serdang cat killer should serve jail time and be under tight supervision while doing community work.
"Only through a jail term will she repent. Someone has got to pay the price for their cruel act in order for others to learn from it."
READ:
NGO lodges police report against 'Serdang Cat Killer'
Tracking animal tormentors