UPDATES:
To have a clearer understanding on the case, check out:
1. Tati Ambia's inside interview:
Her close encounter with the abuser
.
2. Kwong Wah (Chinese) :
网搜下无所遁形 虐猫女现身道歉
3. Free Malaysia Today:
"Kitten Killer" Apologises
4. The Star:
Kitten killer claims to be depressed over parents' divorce
5. Malay Mail:
Cat Abuser Says Sorry
The outcome of the press conference with the cat abuser is still unclear. We'll still need to wait for the official news through the media later today. From what I can understand from some of the comments left in FaceBook, it was a closed door press conference with only the reporters, the abuser and the assemblyman's team. Due to some pressures, 4 persons were allowed to get into the service center to represent the public. The weird thing was… why were the SPCA personnel invited but then were stopped from going into the building? They were only allowed to sit in while enforcement officers from the Department of Veterinary Service (DVS) got a statement from the accused. DVS has stated that they would immediately pursue a court case. If found guilty, the accused would have to pay a maximum of RM200 as a fine and/or maximum 6 months jail, an amount and imprisonment period that everyone crying foul over it.
The only thing we know was that the accused presented a letter of apology and further investigation would be carried out before any decision is to be made. Here's the letter which I presumed was written by someone else on the abuser's behalf. It's in Chinese and Bahasa Malaysia. I'll translate in at the later part.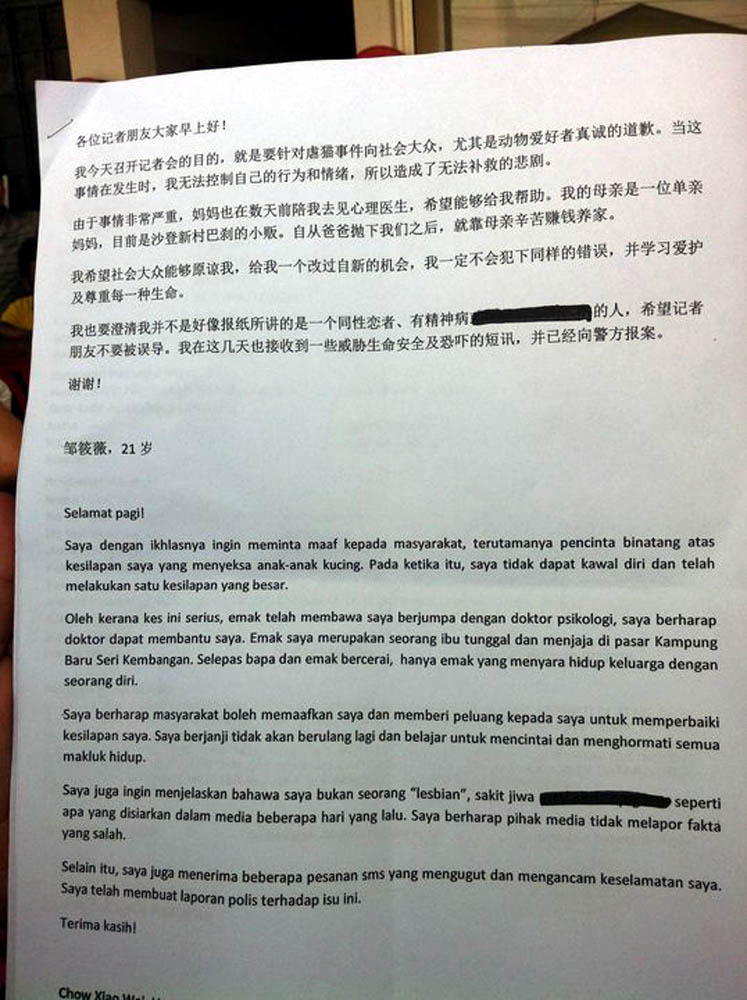 Morning,
I sincerely wish to ask for forgiveness from the public, especially those animal lovers, for my action in abusing those kittens. I was not in control at that moment and thus made a huge mistake.
Due to the seriousness of this case, my Mum has taken me to a psychologist in hope to help me out. My Mum is a single mother, working in a market at Kampung Baru Seri Kembangan. After my Dad and Mum divorced, my Mum remained the sole bread earner in the family.
I hope the public will forgive me and give me an opportunity to correct my mistake. I promise this type of incident will not occur again and I would learn to love and respect other living creatures.
I wish to clarify that I'm not a lesbian, a psycho, as reported by the media a few days back. I hope the media would not post up false facts.
On top of that, I have received a few SMS threats which had threatened my safety. I have made a police report on this.
Thank you.
Chow Xiao Wei, 21 years old
Well, many people are still not happy about this. How could a simple letter of apology, which did not even bear any signature of hers, be sincere? Depression does not mean you can go out abusing and killing anything that can be easily bullied. Come on… This is the first stage of becoming a future psychopath! If the head of the accused is not properly examined, there would be more killing soon.