Would you believe that for the pass 18 hours I did not even let Mama Jessica out from my sight? We ate, we slept and we wandered within the house inseparable… sweat~ I had just spent the last 2 hours inspecting her actions out at my porch area, obstructing her from jumping over the fence not less than 3 times. No… no… She definitely not allowed outdoor unmonitored again for at least another few days prior to her check-up.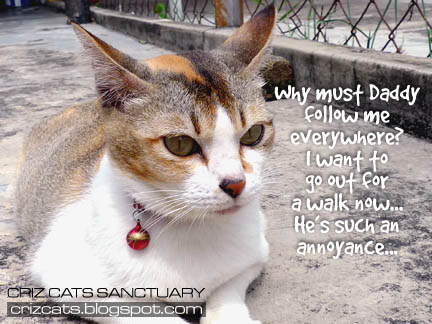 At least the blood trace in her urine is getting lesser and lesser by the hours. That's a good sign indeed.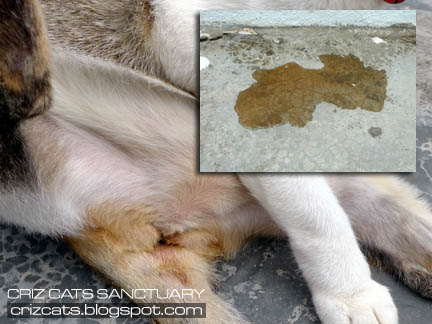 Getting her to eat and drink with either wet or dry food was a huge task. She would rather sleep or stare out of the windows (in search of an escape route I guessed which was quite impossible… LOL!). Anyway, I managed to coax her to sip in some water and munch a few cat biscuits this morning. Finally, she decided to eat more and drink more during lunch time. That was a relief for me.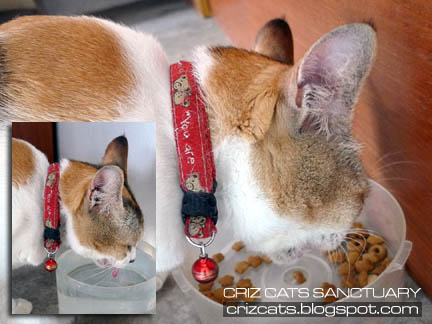 But~ I'm still having problems getting her to take in all her medications. Don't you think a 12mm diameter tablet could be a bit too big for her to consume? I even tried breaking it up to smaller pieces but that gave me more scratches on my wrists. It's like meeting Freddy Krueger from Elm Street. What a nightmare for me! It's time to get some cheese wrapped tablets for her. 😛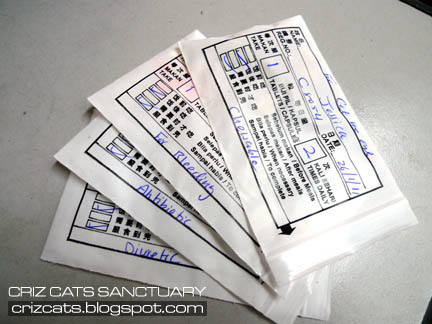 I guessed I would keep this update short for the time being as I really need some rest now as one of my eyes is swollen now. Moreover, there are quite a few blood stained cushion covers and floor to sanitize before she wakes up from her dreamland. Anyway, thanks for all the supports and wishes you have given here. I appreciate it a lot. Errr… oh no… Mama Jessica woke up due to a commotion outside.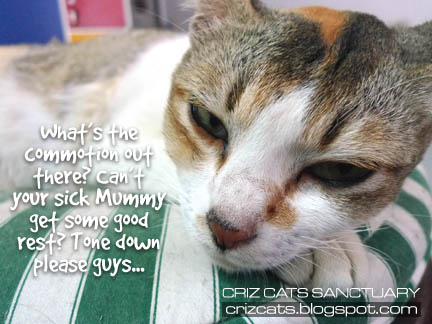 That must be JT (Jay Tux), my new daily stalker in the compound. Well, I would not turn down a cat in need, would you? 🙂