What is life when you have grown up to be a handsome cat but you were left to fend for yourself in a concrete jungle? Joe Boy as I had named him came into my life recently. Initially, I thought someone lost a homely cat within my apartment maze but Joe Boy seemed to be once too frequent to drop by my door step seeking food and clean water.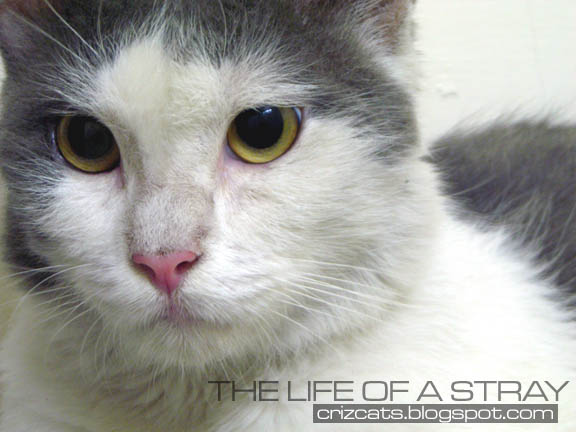 Abandoned? That was the next thing that came into my mind. How could someone do that to this poor cat? He's too neat and well groomed to be a feral except for the few minor wounds he had on his body. I presumed they were the results of cat fights. Let's hope he would not get more injuries from the guys in the J Family as there have been signs of wars when I'm not in sight.
I guessed Joe Boy has been real lucky to find me for shelter but I have one problem here. There are regulations that we were not to have pets in an apartment and I have already broken the rules to have 5 J Kitties here. Moreover, no one has claimed him from the "Lost & Found" notice that I had put up. Let's pray that someone would love him and provide him with a good forever home soon as I also do not have the extra budget to adopt another stray into the family.
Joe Boy is a handsome, cute, affectionate and friendly cat. These shots clearly show what exactly was in his mind.