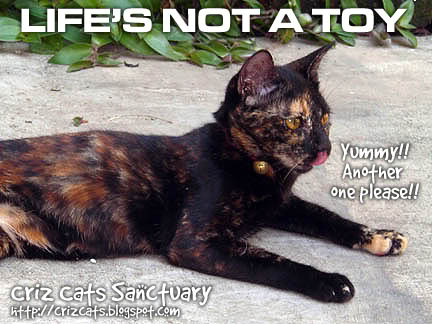 We do understand the meaning of life and appreciate it when we are still alive and be able to go about with our daily routines but do our little furry kitties understand life? Do they know that living creatures ought to be left alone to be as free as the skies? I doubt it as they will think that it's just another moving toy. I may sound a bit weird and upset today as I was quite disappointed with what my wild girl, Jolyn, did right in front of my eyes. It caused the loss of a life…
I was shocked when I woke up this morning after a hectic night trying to manage the J Kitties' food and medical expenses account. The first thing I open my door, I saw feathers all over my porch. I went to investigate and saw these…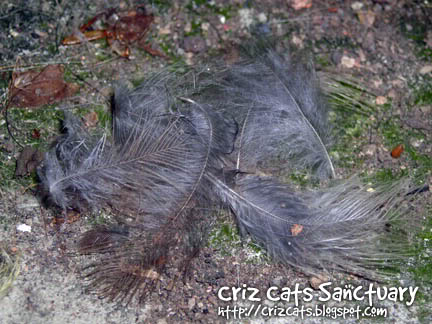 Then amongst my plants… this…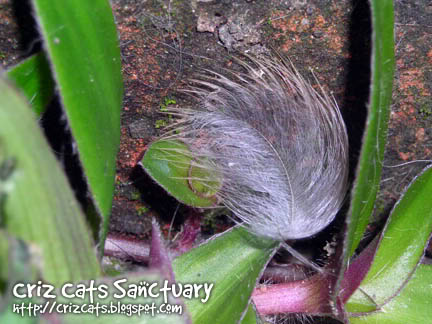 Suddenly, there was a chirp and there it was fighting for its life against the cruel bite of that wild tempered Jolyn. I tried to save that poor bird but Jolyn had bitten even more deeply into its throat and ran away with it. Bad girl!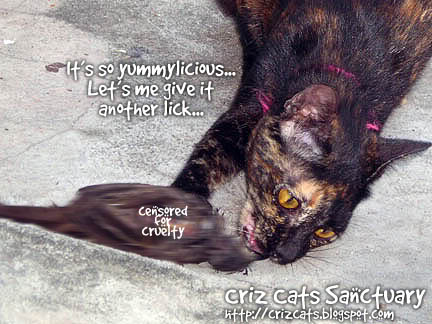 Even Janice and Justin would not touch any "LIFE" food. Both were not too happy with what Jolyn did too. Now I'm beginning to wonder on the mystery of my missing fishes in my aquarium now. Jolyn could be the culprit for what I know.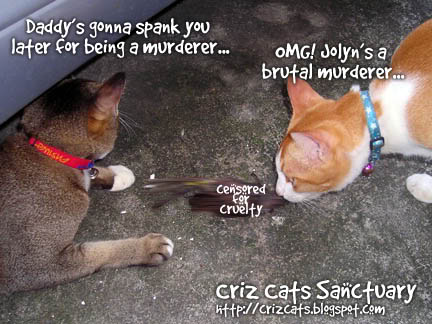 NEVER ASS/U/ME on anything whether dead or alive or even situations as it would always end up making an "ASS" out of "U" and "ME". I'm sorry about the language usage but it's the truth. See what happened when our Three Little Pigs assumed that it was the wolf they had caught…
Anyway, "Merry Christmas" to all my friends out there! Thanks for being there always for the J Kitties.