IT'S TWINS!! The J Family eventually increased to EIGHT! EIGHT is enough as many advised and I'm agreeable to that. The females ought to get fixed real soon or my household members are going to be turned into a football team. Haha! Well, welcome to the world my beloved twins. Your life is surely going to be a prosperous one under my love and care. Let's welcome Jimmy and Joey!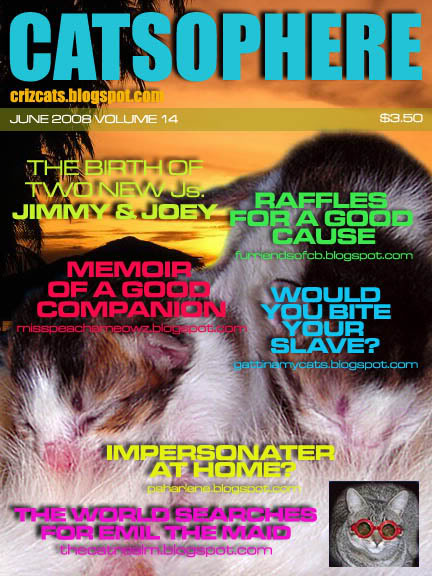 If you are not aware,
Furriends of the Cat Blogosphere
is having a raffle now. A ticket is only at $2 and you may have a chance to win a bagful of brand new fun items worth $150. So hurry up to try your luck in their first ever raffles as the raffle will end on Saturday 6/28 at noon eastern time. This raffle will benefit Moki as well as Panther. Jump in now to find out more about the raffle.
Would you still remember your companion that you had for 18 years? That's what Ms Peach Meowz had in her memories for the last seven years. Drop in to read more on what she has to advise you on proper resting place.
Something has been going on in the house of Gattina. Is it Arthur or Rosie that gave her a bite? Find out more on the reasons why she was bitten for no reasons at all.
Garlic had a hard time convincing her Mommy that the other "thing" in the house may look like him in many ways but that "thing" is not him at all. What is that mysterious "thing" in the house? Find out more at the spice cats' place.
What would you do when you went for a long vacation and came back to find your maid missing? The cat blogosphere was alerted when Karl came back from his honeymoon with Ruis to find that Emil was missing. Where in the world would Emil go? Whoever has Emil's where about, please let Karl know as he is rather worried.