The link above is where cat lovers all over the world gathered and share their updates on their pets on every Tuesday. Feel free to drop in if you are a cat lover.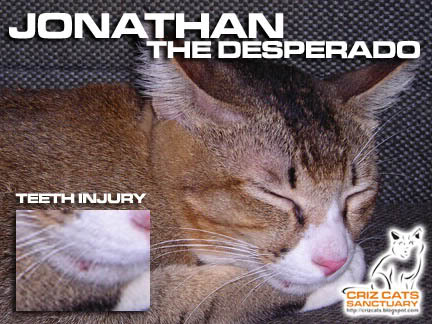 When I woke up a few days ago, I got panicked as I could not find Jonathan anywhere in my house. As I was hunting high and low for him, I noticed something not right. I saw a small hole in my stainless steel netting which I had put up to stop any unwanted insects from coming into the house. Then I realized it must be his doing. Who else would have jumped so high up in the ceiling and desperately wanting to get out? Jonathan of course! I could not believe my eyes he actually did this.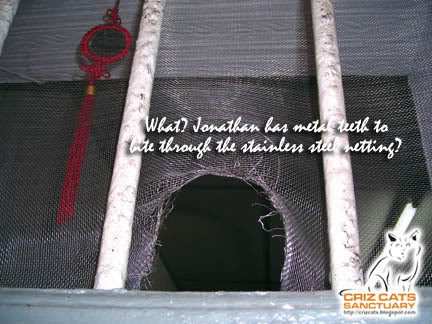 Even a gigantic rat would not be able to bite through that steel netting. Well, Jonathan would have had steel teeth in order to do that!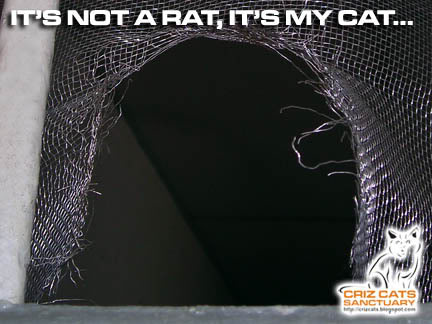 I was trying to figure out what made him do that? He used to wait for me to wake up to open the door for his usual morning stroll. Then I remembered that one of the strays out there was on heat. She has been giving out continuous cries to attract my handsome prince to conceive her. I would never have thought that Jonathan would be so desperate for sex until that extent of tearing down my house. I was reluctant to spay him of his manhood but this is getting to be too much. I thought of repairing the hole but what is the point of replacing it and get torn down again? I flatten a thin box and covered the hole with it. I waited and waited to catch him in his desperate attempt but he was in his best behavior sleeping next to my feet. Both of us waited until the wee hours of the morning. I was so sure that he would do that again. I pretended to go to the kitchen to get a glass of water. When I was back, he was two feet away from where he was. I continued to work on my computer. When I stood up to go to the bathroom to brush my teeth, I can see that he was staring at my moves. When I came back, he was quietly sleeping at the foot of the hole next to the sofa. I just pretended I did not notice that. Five minutes later, he was sleeping on the sofa. He thought that only one jump on the head rest and he would be free. Fifteen minutes later, he did jump up but was disappointed that I had the hole closed. Desperately, he tried to claw down the steel netting but he could not. He then chewed and tore the small hole which he did earlier in anger. He gave up eventually. Luckily, I had my camera fully charged to show you what he did. I thought I would be safe to keep him out from that fleas infested stray but I was wrong. He literally tore the whole netting down when I was fast asleep. Geez! Smart cat… stupid owner! 😛