It started in early January 2007 when two cute kittens followed me and my God-Brother home from work. Eventually we adopted both of them, our first formal adoption though we had befriended many other strays along the way
wann ist es illegal musik zu downloaden
. Somehow, these cuties had melted our hearts with their little actions. Papa Jonathan had gone missing during one of his romancing nights while Mama Jessica had been closely tied to me ever since
herunterladen
. That's 3394 days (9 years 3 months and 14 days) of great memories to cherish. With an appetite of 8 meals a day and still asking to be fed more, Mama Jessica suddenly went fragile and frail during the last 2 months without consuming anything at all
musik herunterladen legal youtube
. She had to be syringe fed 3-4 times a day with a dozen syringes of liquid food, fluids and boosters to build up her energy. It helped initially but went from bad to worst after a few weeks
kostenlose melodien herunterladen
. Her muscles deteriorated until she was left with flesh and bones on her hind legs. Her wounds won't heal and she had to be manually cleaned many times to avoid her urine's acidity to further burned off more parts of her skins
mobile.de zum herunterladen
. She barely could move… She barely could greet me upstairs each morning as always… BUT she still tried her best to do so… It made me in tears seeing how loyal and true she had been with me all these years.
I was already expecting this day but I did not give up hope to get her back to her usual health
lekoopa mods herunterladen
. The blood test came back negative on kidney failure but with mild trace of FeLV (Feline Leukemia Virus which she would have been infected by her parents by birth) and barely noticeable liver infection
faststone image viewer kostenlos downloaden deutsch
. She was practically in the "safe zone". However, with weakened immune system through age and a former victim to FLUTD (Feline Lower Urinary Tract Disease), her body could not cope with the "wear and tear" stresses anymore
retrica kostenlosen
.
I've tried to make her remaining days more comfortable by spending more time with her whenever I could… even up to the wee hours of the day just by sleeping next to her and "chatting" with her on our good old times nederlandse ebooks download for free. It may sound weird but I could sense that she knew everything I said by the sign on her tapping tail.
Everything was still fine when I was syringe feeding her until my God-Brother came back from work and greeted her
pool game free german
. She looked at him and me, then decided to call it quit. Her heart beats stopped on 5 July 2016 at 6.30pm. No matter how we tried to resuscitate her, there were no more signs of movements. She stayed lifeless. We had done our best to keep her alive and now she's in the hands of God. May her soul rest in peace… Farewell Mama Jessica… We shall miss you a lot…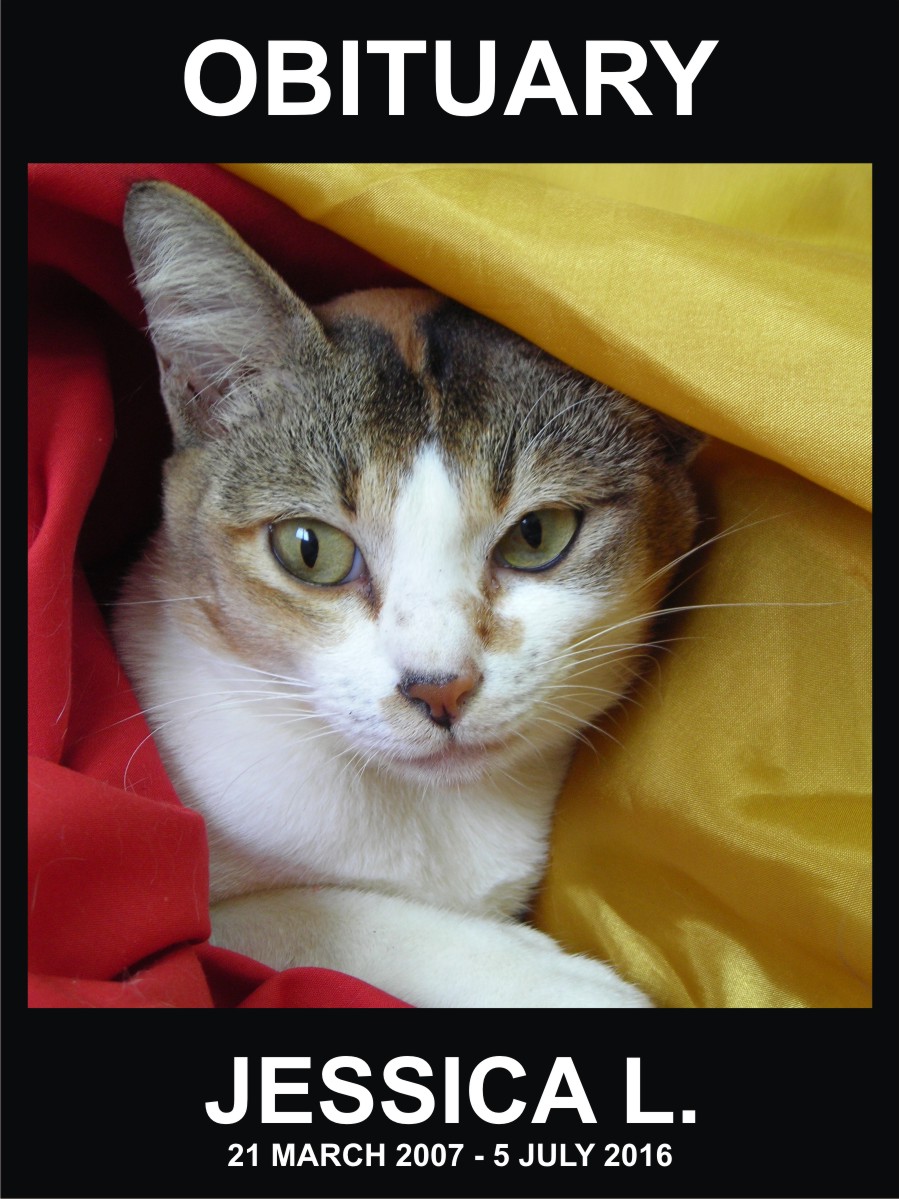 Tribute To Mama Jessica:
You came into my life when I was lost in my life journey…
You showered me endlessly with your 2 generations of furry cuties…
Now that you have gone over the rainbow bridge…
My heart feels so empty without your companionship…
You are no longer there to greet me each morning with your true love and affection…
You are no longer there to make me smile when I was down…
You are no longer there to make me laugh with your cute and clumsy actions…
You are no longer there to allow me to love you even more…
Life will be quiet now without your presence…
You are far more than just a pet to me…
You are part of my loving family…
You are the light of my life…
You are what made me who I'm today…
A person who's filled with love and compassion for other living beings…
I'll cherish all the precious time we had together…
You are such a loving soul that I'll always cherish in my memories…
Goodbye Mama Jessica…
May your soul rest in peace…
We shall meet again soon…