"101 Lost Kittens"
is a street art project leading by Thailand artist,
Natthapon Muangkliang
, Malaysian artist
Louise Low
and
Tang Yeok Khang
. The project is not only to create new spots of interest in George Town but also to create awareness towards stray animals. There are 13 latest street art spots with a total count of "101 lost kittens" to George Town! In fact, there's the 14th spot where Tang Yeok Khang did his friend, a bicycle rental owner, a favor by drawing the 102nd kitten. Presently, there's the 103rd kitten as well, another compliment artwork by the artist for a beverage stall.
Before the wall murals and sculptures get worn out through wear and tear from our tropical weather, it would be great for you to hunt down the "hot spots" soonest possible. I had prepared an easy to follow trail map to guide you through all the beautiful artwork. Some of those art pieces would be hidden in back alleys as indicated in pink in the map (click the map below to download for a clearer view). Good Luck hunting guys~ 🙂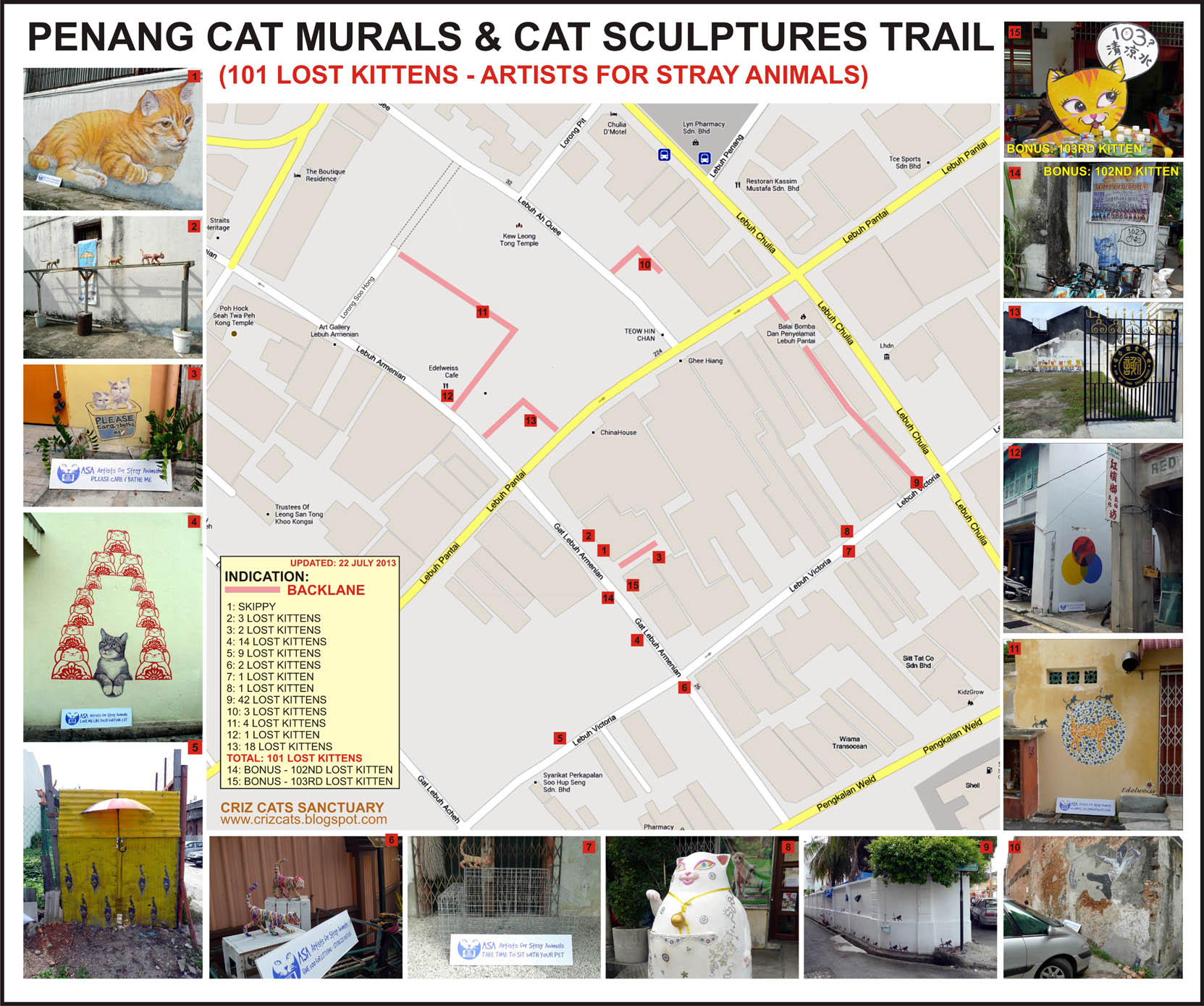 Anyway, here the history on Skippy, the inspiration of the giant cat mural nearby Lebuh Victoria for the "101 Lost Kittens" project for the George Town Festival 2013! Skippy is now residing in Bon Ton Resort, Langkawi, Kedah and she's quite an actress! She would charm the guests and made them believe that she's theirs. So typical of my 5 cats in the house as well. LOL!
Project partners are as below:
ChinaHouse: https://www.facebook.com/ChinaHousePenang
LASSie: https://www.facebook.com/Langkawi.LASSie
Switch: https://www.facebook.com/switch.com.my
George Town Festival: https://www.facebook.com/GeorgeTownFest