Jayson had to go back to his most dreaded place again – The Vet. After nursing him back to great health and chubby look, he had to get himself all wounded up again to be sent back to the vet. After all, he's the main man in the J Family Kitties to protect the others from external harm from intruders. But things got worst. He was in a bad shape with all wounds and a serious mouth infection that stopped him from taking anything. Thus, I had to rush him for emergency treatments on a Sunday where most vets were closed for business. How unfortunate all my kitties always chose a weird time to get sick. Even my regular vet was off due to the unavailability of electricity due to road works. Compared to when Jayson was hard hit by FLUTD 5 months back, his condition was even worst with serious dehydration. He was beyond recognition as a house cat!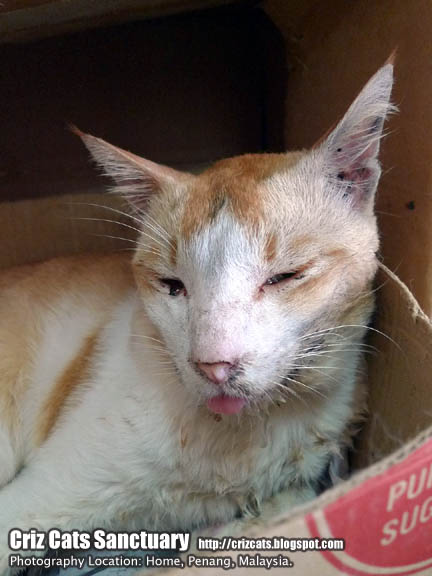 The worst scenario was I was without a car since my near death experience in an unpredicted car accident on 20.12.2012 last year. I had to rely on my friend to take me for vet hunting. Fortunately, we found one new clinic that was open on a Sunday. I thought Jayson was in good hands but I now regretted my actions. My conscience was to admit him so that he could get well even it was a totally new place for him and me. However, somehow I felt some weird uneasiness being there. Walking into the vet was like walking into a chiller filled with dead meat. The whole environment was cold, even the vet was cold. This is the first time I walked into any animal clinic that I could not feel the warmth, compassion, commitment and responsibility from the people down there. At least, I felt more at peace at a graveyard than being there. I was not wrong. Things turned out all wrong.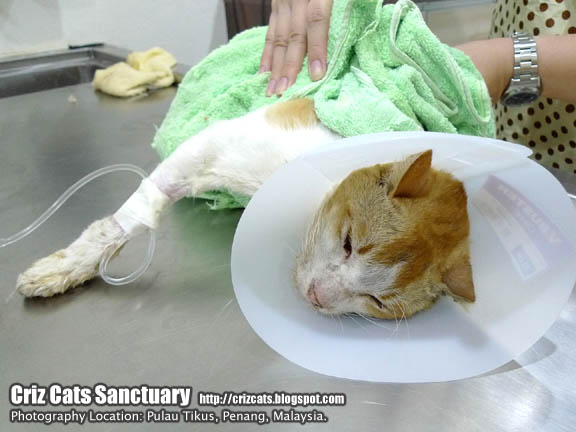 If I were to be at my family vet's clinic, the first thing I would have gotten would be the sharp screams from my vet, "Where's my Frontline? I need to get rid of those pesky fleas before they infect all my animals here!" Here at this new clinic (Peng Aun, Jalan Gottlieb Branch, Penang), I had no responses at all. The first thing the vet did was to shave off the fur on Jayson's hand and without any alcohol and disinfectants, he straightaway poked the needle into his hand to put him on drip. Gosh! What was in the mind of the vet while doing this as he could have injected germs into Jayson? That could be quite fatal since Jayson was all so weak. Moreover, before I could ask more questions, he was already handling another client. So unprofessional!
How could I have peace in mind when I get this type of question from a so called qualified vet when I admitted Jayson?
Vet: What's his name?
Me: Jayson
Vet: How long has he been in this condition?
Me: 2-3 days
Vet: Is he a male or a female?
Me: @_@""'
***thinking in my head*** "Can't you see his two big balls?"
However, even with the lack of confidence, I had to leave Jayson there for the night as it would be the best thing to do since he was so dehydrated and so weak without any solid food in his tummy.
I went back to visit Jayson early this afternoon on a motorcycle since I was not feeling all too well to wake up too early in the morning.
Me: How's my cat doing today?
Vet: Who?
Me: Jayson… The one with dehydration and swollen mouth. Is his mouth any better?
***Come on, only 3 cats in the boarding room and you can't recognize me?***
Vet: Oh! He's off the drip but he's not eating. What should I do?
Me: Huh?
***thinking in my head*** "What the hell I came here for with such an expensive boarding and treatment charges and you ask me what I should do? Isn't that the job of a vet? Hummph~"
That statement tickled my anger but I stopped myself from showing any anger and gave him a false smile saying that I would be back later. I had to wait for my god-bro to be home so that I could borrow his car. Without thinking any further, I drove straight to the clinic and discharged Jayson. Again I felt the chillness in the clinic. Could you imagine that I have to service myself to go into the boarding room to get Jayson out? Jayson was so happy and straight hopped into his carrier. The bill was shocking! 24 hours without any food, one V-Buster collar, one bottle of drip, one injection for his swollen mouth and boarding could be equivalent to the price of a reasonable good quality hotel room. WTFish~ 🙁 Just look at the condition of Jayson. He was even in worst condition than when I brought him in. I thought cleaning up a pet was also part of their job?
Even with the lack of funds, I had to find ways to admit him into my family vet's clinic. Upon visiting my vet, the first remark was, "WTFish! I've never seen any pet loving vet so ignorant to leave masking tapes on an animal's hand after detaching the needle for the drip? Why was the blue raffia string so long? Jayson could have gotten restless and hanged himself." My family vet has always been very professional in handling all my pets. She would run a blood test to find out more on Jayson's condition as she would like to make sure that Jayson would not be suffering from any other ailments on top of what appeared to be a serious case of gingivitis. Now I can have a good rest, knowing that Jayson would be under the care of perfect hands. Let's pray that things would work out better for me and Jayson.