Another visit to the vet this morning was not a pleasant one too. I brought Jayson's favorite food along to try to convince him to eat was not fruitful. All he did was to have a sniff. That's all! Haiz~ His temper was up to the max. He got violent even with me around to calm him down. I just don't understand how could a quiet and violent-free boy of mine could have ended up this way. I guessed it could be the trauma he had for being so seriously sick and admitted at the vet's for the first time. Whoever got near him has to be real careful of having their hands too near him.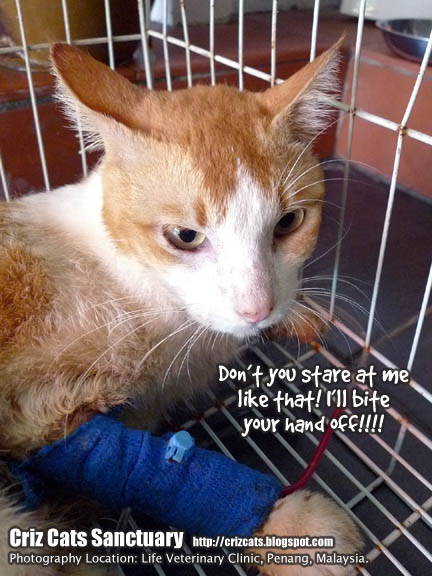 What I hated most was his swiftness. Before I could warn the vets that there was a danger of him biting off the catheter, he pulled the whole 6″ tube out from his "ahem" within second! Gosh! Let's hope he would not require that in him again or there would be a second operation charges for sedating him and inserting back the tube. Bad Jayson! He's not helping me here at all with a tight budget. Moreover, I just gave the vet a call and he's still not eating anything yet. 🙁 It could also be due to some signs of inflammation in his mouth. Luckily all his medications are done by injections. If not I would have expected more scars on the vets and helpers. I do hope to hear more news from the vets this evening.
I'm actually in a very solemn mood now as I just found out this evening that my jointly adopted and handicapped cat,
Panther
, had gone over the rainbow bridge barely 12 hours after Jimmy's sudden death. After numerous visits to a few vets for second opinions, he died in the arms of my very supportive friend after being hard hit by a seizure from the old nerves related complications. I guessed my friend, even in sorrow, had to keep this news from me for putting me into more emotional stresses. I'm going to miss that chubby furry ball now. Rest in peace Panther… we gonna miss that cuteness in your face now.