Would you renounce the COLORFUL world of yours and live reclusively in the name of faith? Majority of us would not give up our life as we do not have the will power to sacrifice our never ending needs and wants. The display of devotion from a particular cat, given the name Liberation, in a South Korea monastery, will sure put many people, regardless of religion, to shame.
Found by the abbess 4 years ago as a kitten with burn injuries, this cat has been practicing without fail the 3 golden rules instructed by the abbess ever since… no noise… no meat… no killing. She would reluctantly walk away for her meal daily, while spending many hours venerating in the COLORFUL decorated shrine. Amazing right?
A few videographers decided to test out the cat by providing a COLORFUL array of meat dishes. To their dismay, Liberation ignored those sinned food and went for her favorite colored dish… greens. Wow! She indeed has a strong withstanding power!
Here are the documentary videos of Liberation in her daily life. Well, it's in Korean but I'm sure actions would speak louder than words right?
Err… On the other hand, my Jeremy had declared that his life needed to be more COLORFUL. He needed more delicious food to tempt his pampered taste bud. Shame on you Jeremy… if only you could be half as obedient as Liberation there… 😛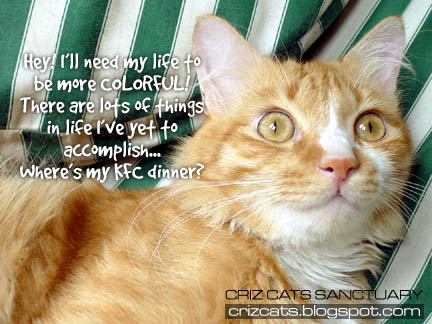 THANK YOU FOR YOUR TIME AND VISIT!
HAVE A NICE WEEKEND!
HAPPY PHOTO HUNTING!