Times really passed by so swiftly. Within a few blinks, Jimmy has already grown up to be a fine gentleman… errr… cat! Two period of time remained vividly imprinted in my head… 1.37am (Jimmy) and 2.08am (Joey). Jimmy on one hand was the lucky one to be still living happily under my tender loving care. On the other hand, my lovely angel, Joey, left me so unexpectedly that the sadness of losing such a great companion still leaves a deep hole in my heart until now. I missed you Joey… a lot! How I wished both of you could have celebrated this wonderful day together. I missed all the fun and mischievous time you had with your brother when you are alive. Sob~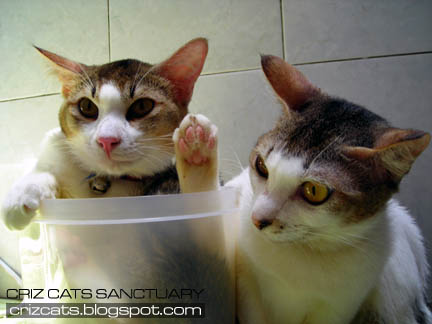 I might be hallucinating awhile ago but I could have sworn that Joey was here to wish her brother a great two years old birthday. Jimmy was acting rather weird today. He has been fully awake during his usual napping time and kept staring out of the windows. The usually quiet Jimmy has been giving out weird calls as well. I should think less for now as it might be a blessing in disguise to know that my little angel is still overseeing the happiness and health of all the J Family Kitties here. Everything has been so perfect around here for quite awhile without me ever to worry about their health and so on. Let's pray that it would remain this way forever.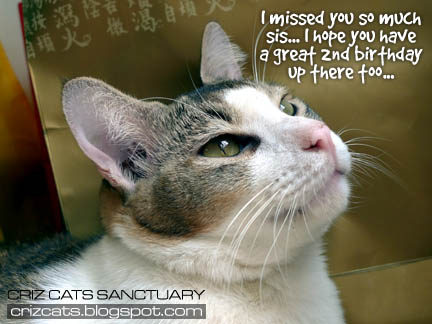 I'm posting this up at 2.08am to mark the birthdays of my two lovely twins. Happy Birthday Jimmy! Happy Birthday Joey!