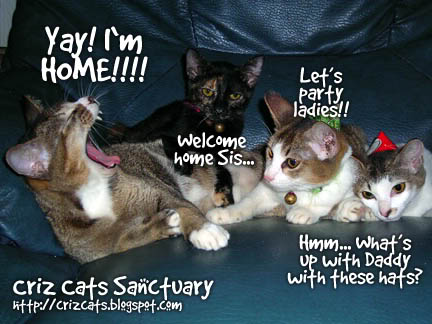 My sweet girl, Janice is finally home this morning after being "held captive" against her will for A MONTH. With all the health issues in the J Family, I didn't even realize that time did pass by so fast. I have been very busy trying to settle some of the existing vet's issues that I was totally knocked out towards the end of each day for the last few days. Luckily everyone were in the best of health now… well almost… with only Janice left to be treated for her mild ear wound from the last attack. Thank goodness! The health issues were finally over. Thanks to everyone who had chipped in to help out during these stressful moments. Gosh! It has been indeed an extremely tiring period for me.
The babies were very excited to have their sister back. The first moment Janice was brought into the house, Joey was the first to wish and snuggle with her sister. She really missed sleeping on her sister's tummy all these weeks.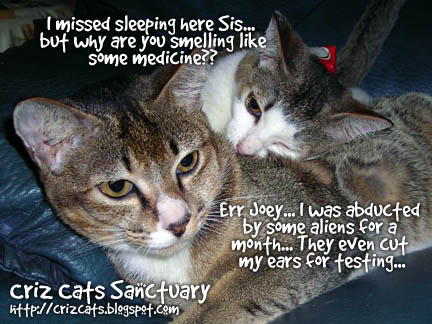 Jimmy came up next and cuddled Janice as never before and gave her sister some licks to clean her up. It was such a touching moment seeing him doing that. It was like "Sis… I miss you. Can you please come and play with me now?"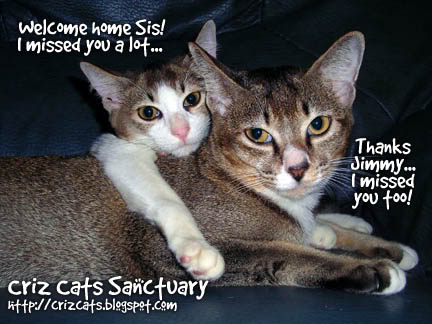 There's one very obvious change on Janice that made me worried now. She has grown so fat with all the nutrients and vitamins she had at the vet that she had turned into a couch potato. Gosh! Have I got to serve her like a queen now? OMG! It looked like I'm going to be her slave for a long time to come. I hated that "Daddy, please do this and that and this and that" look in her eyes. But what can I say? She has been my jewel and most pampered cat in the family… Oops… favoritism! Haha!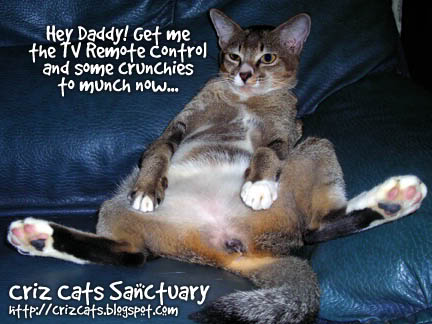 Today was indeed my happiest moment to get her home. It's great to have everyone here back to being healthy, happy, playful and joyful moods again. Well, I did get a great present from Janice too. She really missed playing with me for so long in our own sanctuary that she forgot about being as lady like as she has always been. Who's to complain to see her in such a cheerful mood now? I won't…
Note: To all those who had sent their well wishes as well as helping out during this period, I would like to say a big "THANK YOU!" Without you, the J Family Kitties would not have survived these ordeals. I would indeed repay whatever within my means at the present moment to help more kitties in need in the near future.