(A submission for Karl's I Dare You All #4, Part 2)
Keeping the environment populated with many greens has always been the practices of us, the J Kitties. After all, it would benefit the future generations well. (Daddy Criz: Wait! What do you mean by future generations? Are you all planning to have more babies in the family? OMG! Help!!! :P) Grrr… Daddy! Keep calm please… Errr.. Where was I? Oh ya… In order to have a better environment, everyone should chip in some effort to make things happen. Unfortunately, there would still be some who are just too lazy to get their butt moving…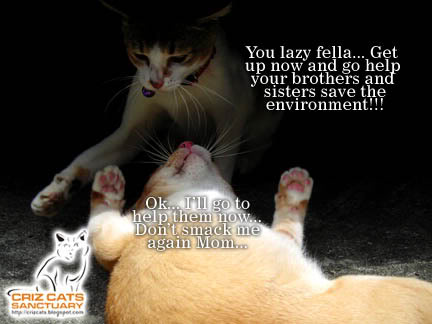 Anyway, to get fresh air filled with oxygen, we must have more plants around. Getting a plant to be potted would not take much energy or time at all. It will just need a bit of effort to get up from the couch to go straight to the garden. That's what we babies did. Our brother, Jeremy showed us the part in the garden where there were hardly any plants on it.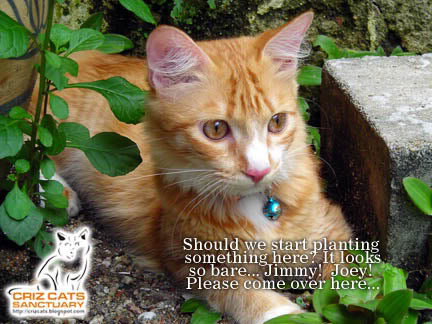 We struggled under the hot sun to get a few plants up. It was tiring but it was worth the effort. We were real happy that we had help to make the environment a better place to live in.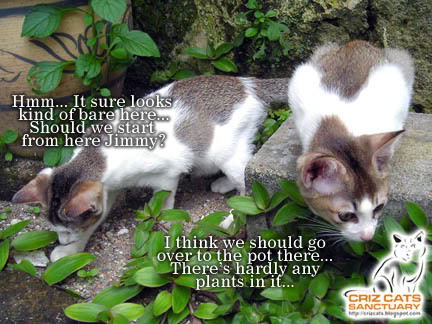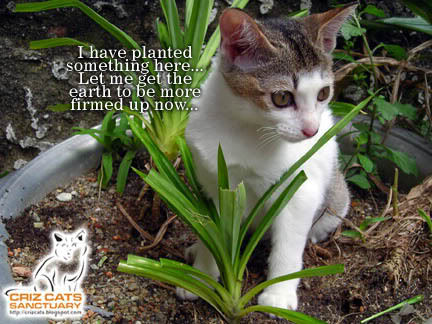 There's another thing that you all have to take note. Please use ONLY ORGANIC FERTILIZER. Do avoid using chemical based fertilizer as it would cause us to be very sick when we hunt for our catnips in the garden. Well, Jimmy has his own way to fertilize the plants. I hope it will help the plants grow well. Gosh! What's that smell?????